Corvette Racing's Antonio Garcia and Jordan Taylor are optimistic that a C8.R can score the new car's third consecutive IMSA WeatherTech SportsCar Championship win at Road America this weekend, but they expect a stronger challenge from BMW following the latest Balance of Performance changes.
For this fourth round of the championship, all GT Le Mans-class cars have had their fuel capacity increased – the BMW M8s by 12 liters, the Corvettes by five liters and the Porsche 911 RSRs by three liters – but the BMWs, run by Rahal Letterman Lanigan, have also had their minimum weight cut by 22lbs [10kg] and their power increased by 14hp.
This could throw a high hurdle in the way of Corvette Racing's hopes to score three IMSA wins on the bounce for the first time since the spring of 2017. Garcia and Taylor won the second round of this season, the Daytona 240, while they finished just behind their victorious teammates Tommy Milner and Oliver Gavin two weeks ago in the Cadillac Grand Prix at Sebring.
Looking ahead to this weekend's 2hr40min race around the undulating 4.014-mile course at Elkhart Lake, WI, Garcia said: "Tire degradation is always a key thing at Road America. This new Corvette should be a little bit better on that compared to the[2014-'19 predecessor] C7.R.
"Porsche was strong last year and they obviously are going to be strong again. At Sebring, they showed really good pace behind us. With BMW getting a break, it will be difficult to fight them.
"That will create different speeds at different parts of the track where each car will be strong. We will see where everything lines up, but for sure that should be interesting."
Added Taylor: "Road America is definitely a power track, so I think [BMW's BoP break] will be pretty major when we go there. We saw at the Rolex [24 Hours] that they had a pretty big power advantage where they were able to drive around most competitors.
"I'm not sure where their loss of performance was at the Daytona and Sebring sprint races compared to the Rolex but going to Road America that change should benefit them."
The former IMSA Prototype champion concurred with his co-driver regarding tire life, pointing out, "Road America often has a big tire degradation part to it, so for us that could be a big part of the race strategy-wise."
Explaining Corvette's 'hot streak' with the new-for-2020 mid-engined C8.R since the restart of the IMSA season, Garcia stated: "At the Rolex 24 [in January] we were good but that was hidden by little mistakes and issues we had toward the finish. We had been competitive for the first 20 hours but had a few little things going on with the car because it was very new. The pace was there but we weren't able to fight for the win at the end.
"Each month, there is a ton of development and we continue to show that. Even when we weren't on the track, we continued to develop the C8.R."
Taylor added: "It's amazing that we've come out so strong after the quarantine period… It shows a lot for what Corvette Racing is about and the preparation it does behind the scenes. Even though no one could go to the race shop, the engineers were working from home and made huge strides on the C8.R. We went back to Daytona and obviously had a good race there with the win and then went back to Sebring where we were able to do a two-day test there before the quarantine and one simulator test when that period opened back up.
"For us it was an unknown for us because it was the first non-Daytona track where we were competing against all the other teams. Daytona is so unique in that you can stack up well at that track and have that not be relevant anywhere else. So it was promising that we were able to get the pole. The car was amazing all race weekend, and I think we've shown we can be competitive on all different kinds of tracks. I'm really looking for this one at Road America."
---
Corvette Racing carries momentum to collect 101st victory in IMSA competition…
Corvette Racing's second win in only the third IMSA WeatherTech SportsCar Championship race this season "speaks volumes" for the new Chevrolet Corvette C8.R according to Jordan Taylor.
The No. 4 entry of Tommy Milner and Oliver Gavin led home a 1-2 finish for Corvette at the Cadillac Grand Prix of Sebring, marking the team's first sweep since Lime Rock Park in 2016.
It gave the Pratt & Miller-run factory GT Le Mans squad its 101st victory in IMSA competition after notching up the century last time out at Daytona.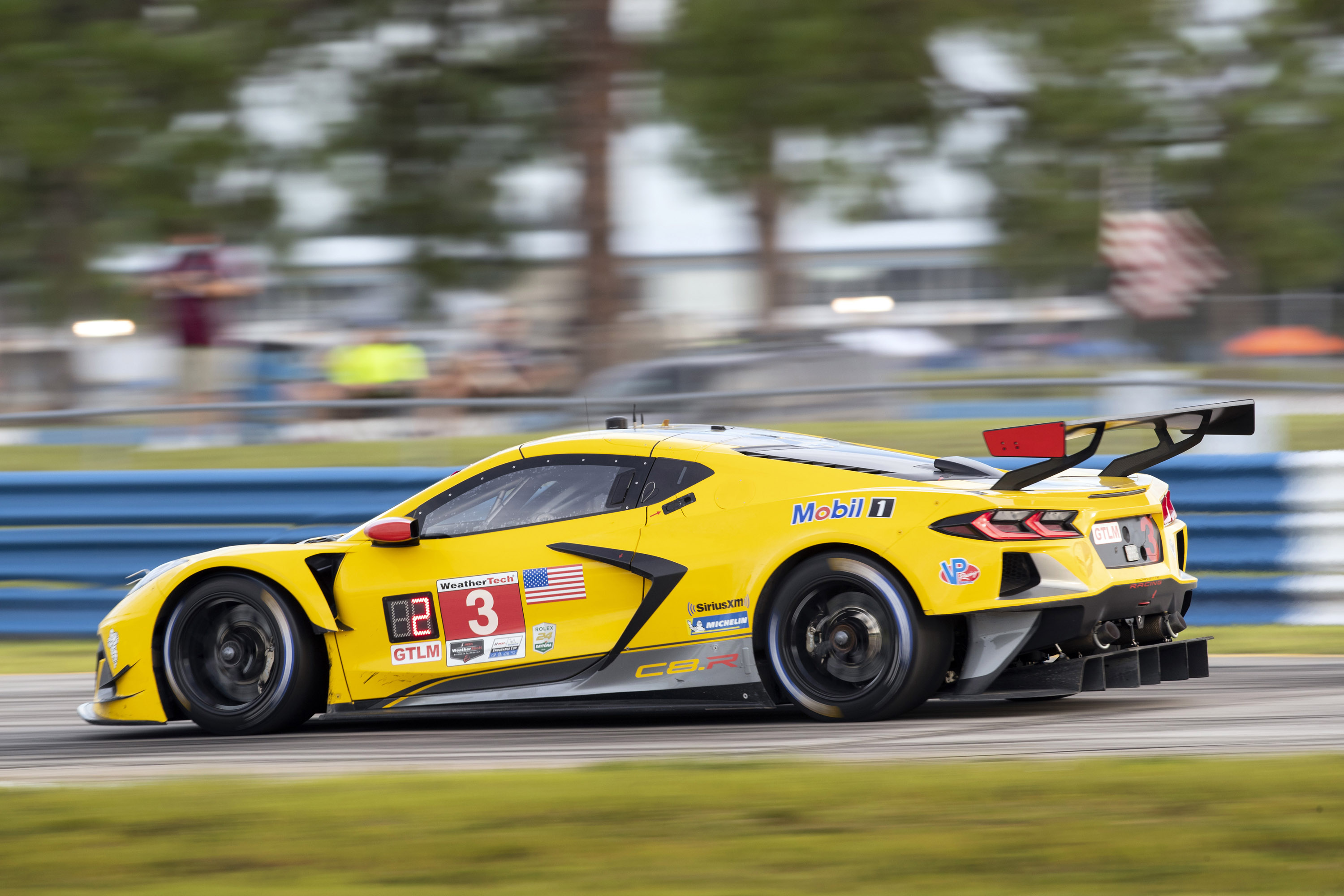 Milner led home the sister car of Antonio Garcia by less than five-tenths of a second but says the final laps were not as easy as it looked.
"I know it took us a while to get to 100 but it's nice to get over the hump and get 101 so you're not talking about that one," he said.
"Today was all about strategy, all about not making mistakes. It looked like we were going to have a pretty good race there with the Porsche. It was all pretty close but then it fell apart as far as that goes.
"In the end, it was just left to myself and Antonio and Olly and Jordan there to put on a show a little bit there.
"Olly really made the race for us there saving fuel and that allowed us to have a bit of a better pit stop and get out in front of the No. 3 car and that was the race for us.
"It got pretty close there at the end, he was close but he was a little bit nicer to me than he could have been."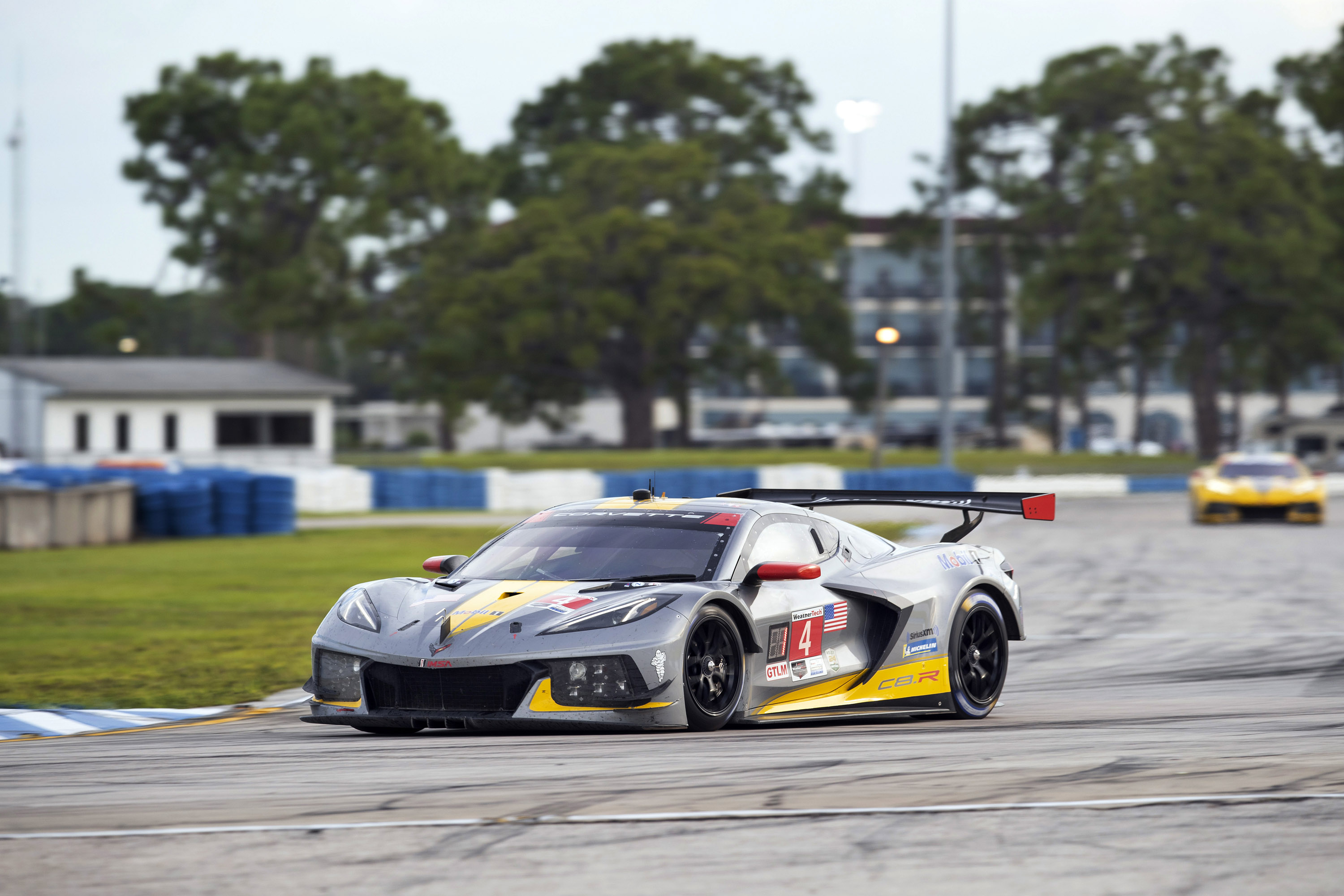 Co-driver of the second-placed No. 3 Corvette, Taylor, was pleased with the team's double podium.
"It's a great day for Corvette Racing," he said. "It's our third race and to get two wins, our first 1-2 since 2016, I think it speaks volumes for the team and this new C8.R."
Porsche Incident Spoiled Potentially Close GTLM Race
While Corvette's run was without trouble, the same could not be said for the factory Porsche 911 RSR-19s, with both the Nos. 911 and 912 car's chances of victory being dashed in seconds.
The pair came together in the first round of pit stops which resulted in the No. 912 losing its nose and the No. 911 suffering a puncture from the contact a few laps later.
Laurens Vanthoor and Earl Bamber impressively recovered to third in the No. 912 Porsche. However, Milner believes the race would have been closer had the Porsches not collided.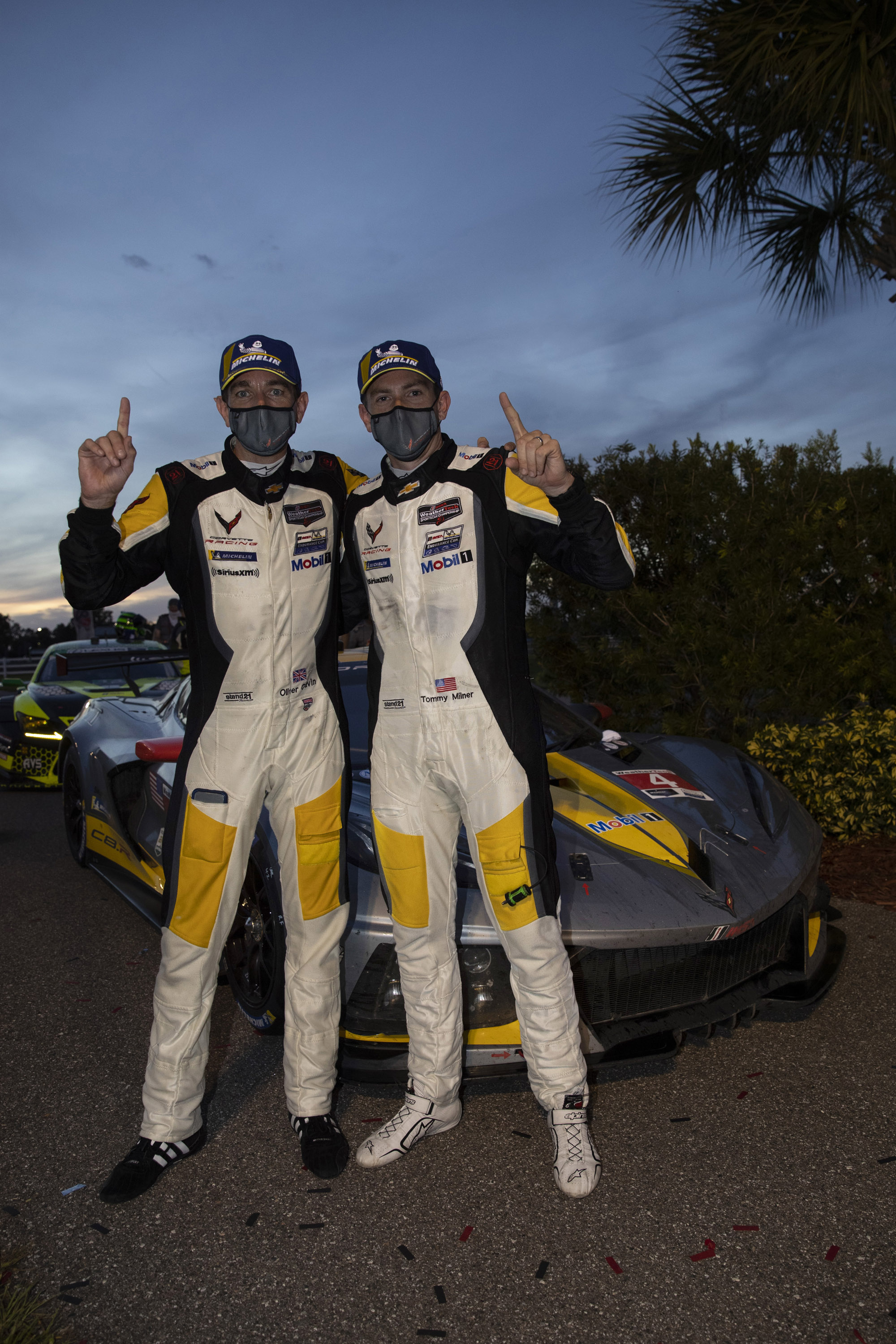 "It was looking like it was going to be very close pace-wise and everything," he said.
"You saw in the pit stop as well we came in together and we were going to leave together. In terms of strategy details, it looked like it was going to be a close race, fuel numbers, tires whatever it was.
"They've been fast all season and continue to be quite quick so for sure we have some work to do to find an advantage somewhere if we can and ultimately not make mistakes throughout the race.
"We saw today how one little mistake can ruin your race. We just need to be extra vigilant, no pit lane incidents like that. All those little details that aren't quite sexy in some way but make the race for you in the end."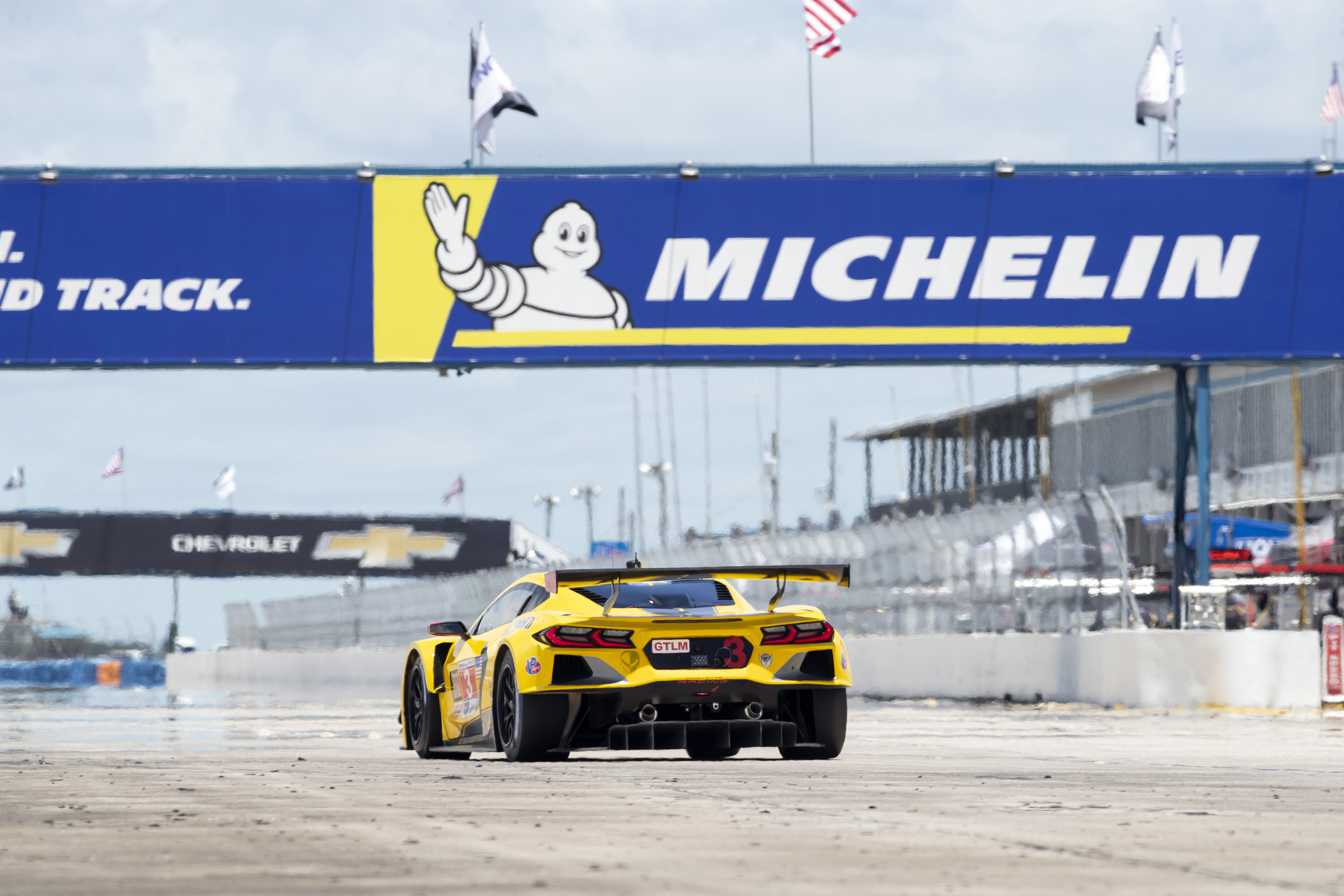 Gavin was on pit road in the fast lane and was caught up in the incident but did not sustain any damage.
"I didn't know anything about it. I just saw one of the Porsches left missing its front bumper," he said. "I think it was all of us trying to leave together and there just wasn't enough room.
"I was already in the lane so when it's like that I have priority."
Slade Perrins for Sportscar 365
---
Corvette Racing's 100th victory in IMSA competition has been coming for more than two years. The last one came in the Acura Grand Prix of Long Beach in April 2018.
Tonight, the iconic American sports car team's drought finally ended, appropriately enough, on the Fourth of July at Daytona International Speedway. Antonio Garcia and Jordan Taylor will go down in the history books as the driver pairing to deliver the milestone victory – also the first for the revolutionary, midengined C8.R race car – in the No. 3 Velocity Yellow machine.
Fuel strategy was the name of the game in the GT Le Mans (GTLM) class tonight at Daytona. And while every car in the class led at one point or another throughout the evening, it was the No. 3 team that hit the strategy just right.
Garcia won the high-speed game of musical chairs by 1.977 seconds ahead of defending WeatherTech Championship GTLM champion Earl Bamber in the No. 912 Porsche GT Team 911 RSR-19.
"The engineers spotted very early how close we'd have been with fuel and how early we should start working on that," Garcia said. "Jordan did a great job and saved a lot there and I saved another one. We didn't know about the 912. We didn't know if they could make it or if we were fighting them and the 911.
"We were expecting the Porsche to follow the 4 car (Tommy Milner and Oliver Gavin), but we realized it was a fight. As soon as I had an opportunity early in the stint when I knew my tires were good, I waited for Earl to make a little mistake, and because I was able to follow very close I took advantage of that position. After that I worked my way through traffic really, really well."
It was Taylor's first GTLM win after moving from his father's Wayne Taylor Racing Cadillac DPi team to the Corvette factory program this season. The significance of the Independence Day victory wasn't lost on him either.
"It's obviously very special," Taylor said. "I was Antonio's third driver for so many years and we finished second at Sebring, and Petit and Le Mans, and had so many podiums. It's great to finally get a win with Antonio. And to get a win on the Fourth of July in an American car and being an American driver is pretty sweet."
Bamber and co-driver Laurens Vanthoor finished second, matching their result from January's Rolex 24 At Daytona. The same can be said for No. 911 Porsche co-drivers Nick Tandy and Frederic Makowiecki, who claimed their second straight third-place trophies in Daytona's Victory Lane.
---